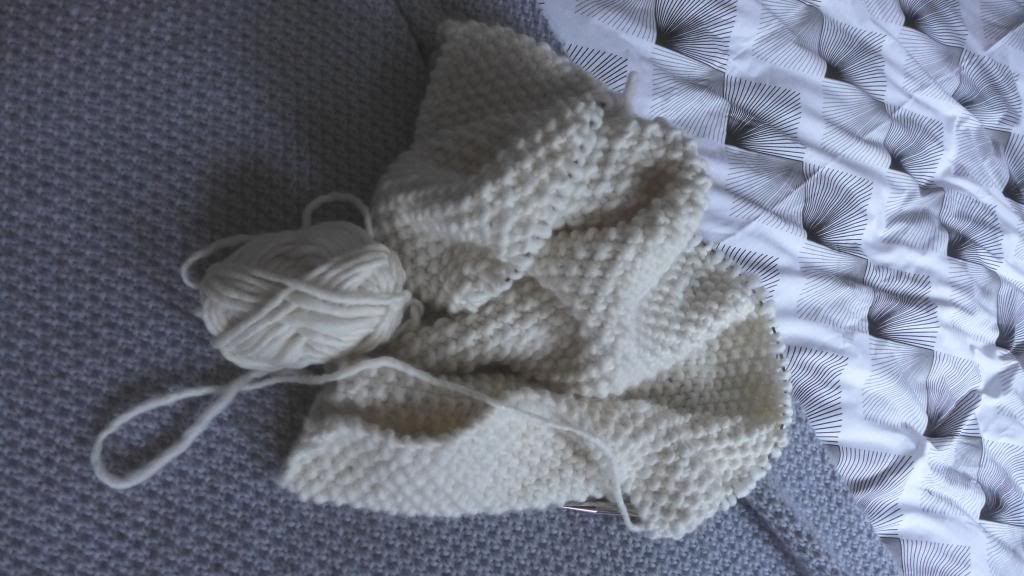 Watching the chilly Winter Olympics has prompted me to knit another warm and cosy blanket. I finished the first one [pictured below] just before Christmas last year and it took me AGES so this time, in the pursuit of laziness, I went for a thicker wool, bigger needles, and a simpler pattern!!!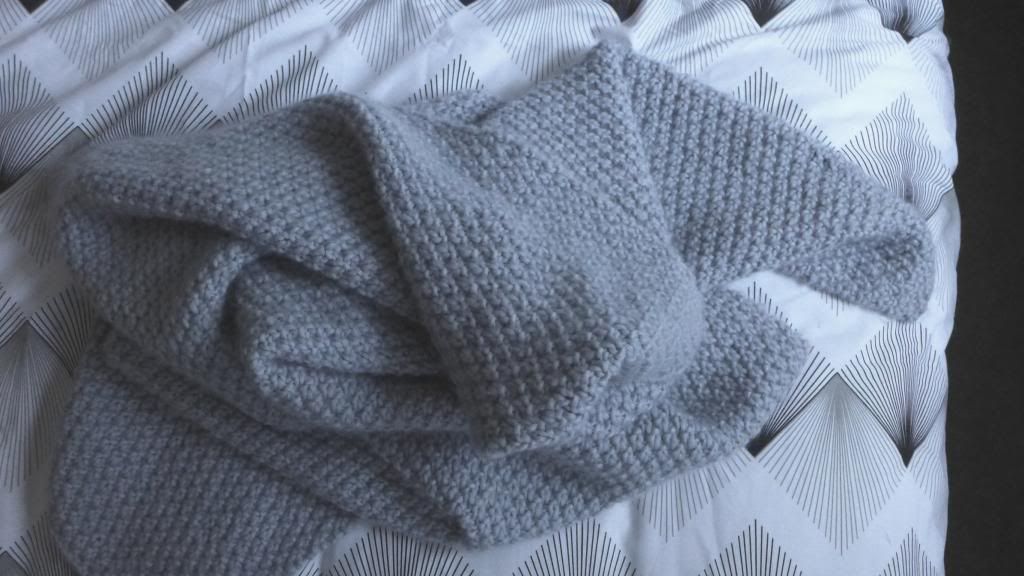 The pattern for the first [grey] blanket was a
Double Seed Stitch
pattern taken from one of my favourite knitting blogs,
The Purl Bee
. The site is american [seed stitch is UK moss stitch] so I tried to find a wool in the UK that would match the same needle gauge [9mm = US#13]. I can't remember the number of stitches I cast on for the size I ended up with [approx. 150cm x 120cm] but whatever number you choose, it needs to be an odd number for the pattern to work.
The wool I went for was Drops Eskimo, which is lovely and soft, 100% wool. I bought it from
Wool Warehouse
and 26 balls of wool cost me about £44. There is a 10% discount code [LK71] floating about that might work for you; it worked on my second order of wool for the second blanket, and it's free delivery on orders above £25. I chose the colour
Light Blue/Grey
, as the colour I originally wanted [Light Grey] was out of stock, but honestly I'm more than happy with what I ended up with!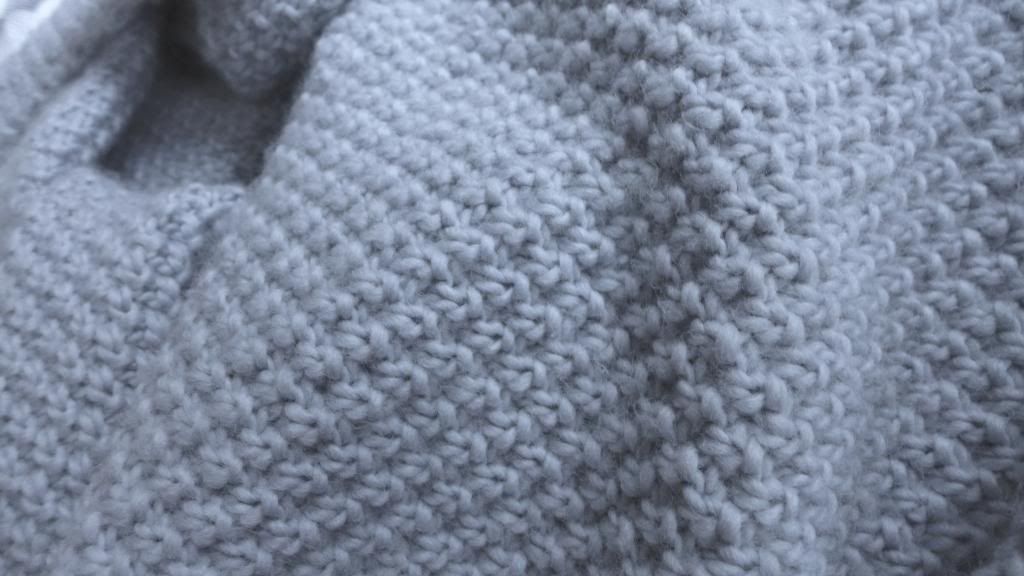 The pattern for the second, cream blanket was taken from the Drops website which you can find
here
, and is a simple moss stitch; a more basic version of the first pattern. The wool was bought from Wool Warehouse again, and this time I used Drops Polaris in
Off-White
, which is thicker and sold in 100g balls rather than 50g. The pattern calls for 13 balls; as a start I ordered 12 and will probably need another 6 or so for the size of blanket I'd like. For this wool I used a size 15mm circular needle, which I am estimating will give me a slightly smaller blanket than the pattern shows, as it calls for a size 20mm needle. I cast on 79 stitches which gave me a length of about 120cm, and at the rate I'm going it will measure around 80cm wide [hence why I might need a few more balls of wool]. In hindsight I probably didn't need to cast on as many stitches; 59 stitches would probably give a length of about 90cm, making each row slightly quicker to knit.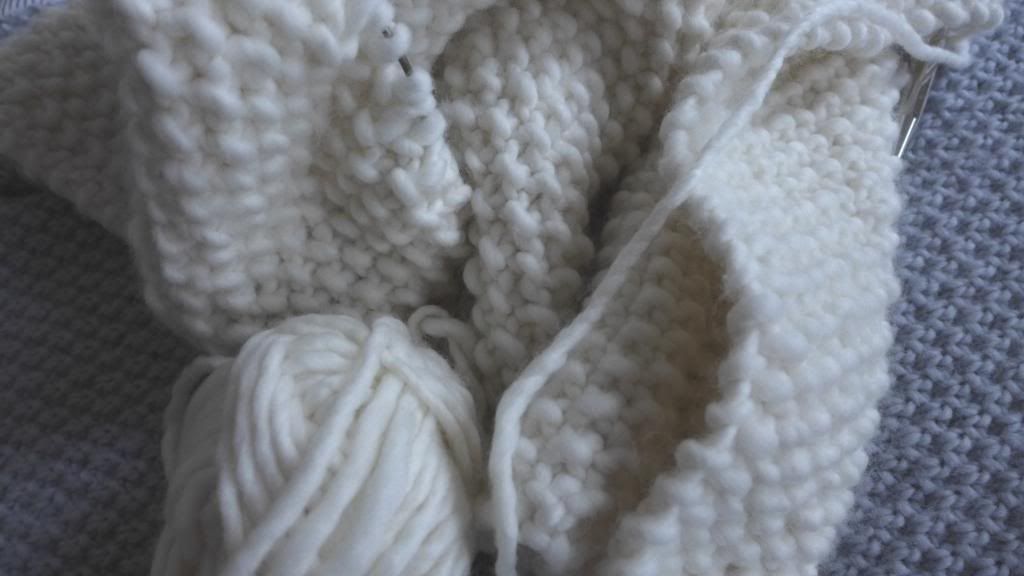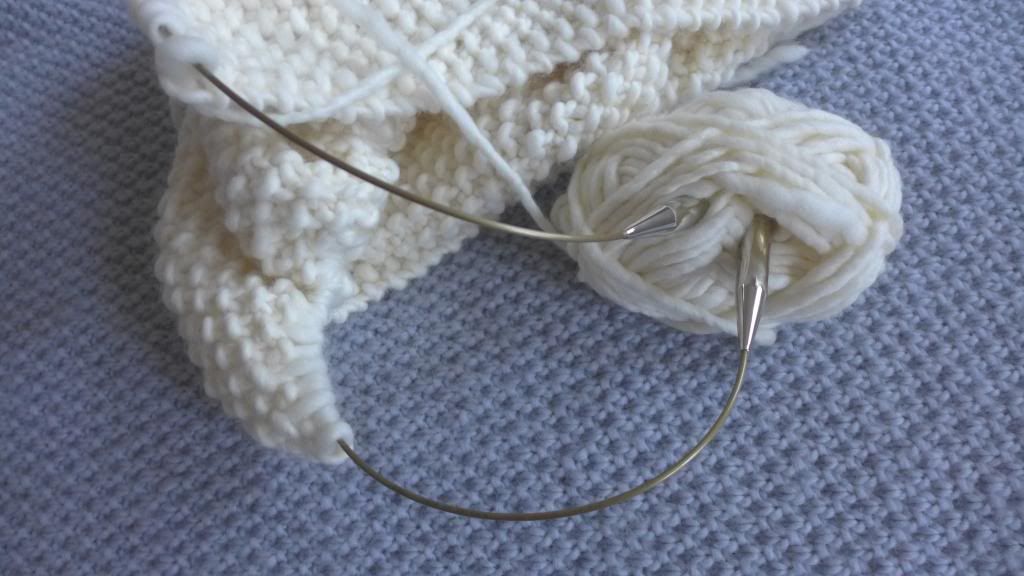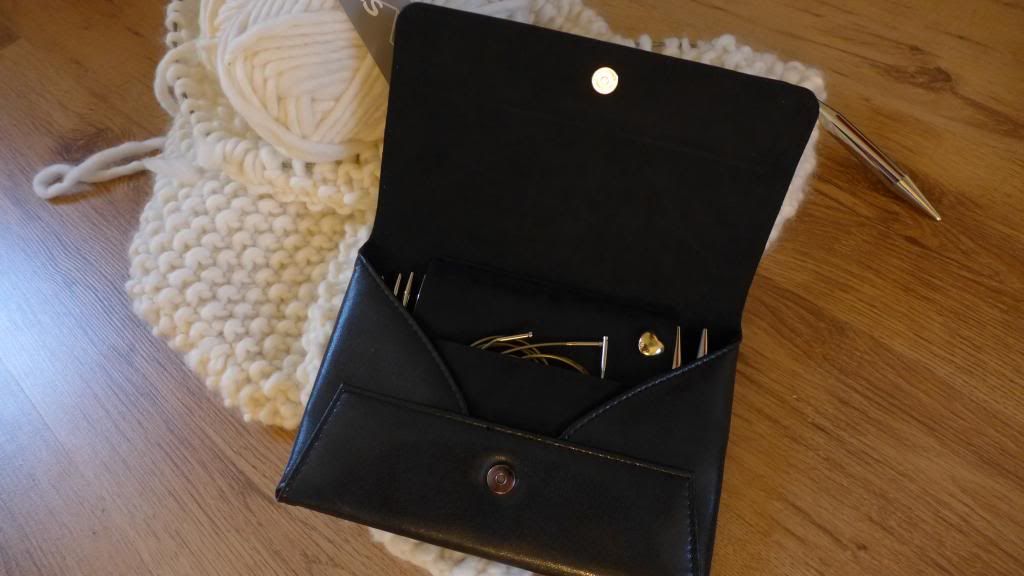 For each blanket I used a circular needle, which links the two needles together into a loop, making it easier to knit a wide blanket as it won't fall off the ends! My wonderful boyfriend bought me a set of Addi Click circular needles for our anniversary, which has an interchangeable interlocking system that lets you swap needle sizes and cable lengths. Of course, you can find much cheaper circular needles which are just as good, and which I happily knitted my first blanket with...
I also chose to slip the first stitch on each row [which means move it across to the other needle without knitting it] for a neater edge, but this is optional, it depends what type of finish you prefer. If you choose to do this, threat the slipped stitch as the first stitch in the pattern, and continue with the second stitch as the pattern sets out.
I've knitted another little blanket using Drops Eskimo for a friend's baby shower but as she hasn't had it yet, I'm going to save it for another post so as not to ruin the surprise!